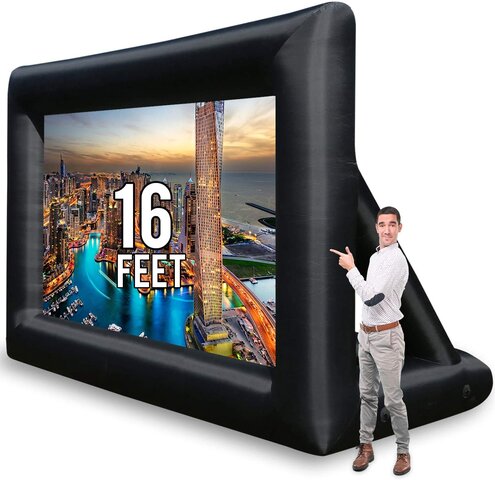 Inflatable Movie Screen Package
Jumbo 16 Feet Inflatable Outdoor and Indoor Theater Projector Screen. Bigger Screen Size than Similar Products - The white Projection Screen Size is 11 feet by 6.5 feet with an aspect ratio of 16.9. Front Projection Capabilities.
Awesome Outdoor Movie Theater - Bring your Family and Friends Together for a Night of endless Fun in your Backyard Great for tailgates and camping adventures!!
Screen is dropped off/set up at time of your choice and then picked up the next day. This allows you to use the screen as late as you'd like. :)
**Includes inflatable screen, projector, projector table, speakers, and cables. Everything you need to make movie night EPIC!**
This does not include a DVD player/roku/firestick (We have a firestick for rent for an additional fee).You will need to provide the movie. You can plug in most devices such as a DVD player, laptop, Xbox, etc with an HDMI cable or stream from something like a firestick.
Screen may look slightly different than picture as we have several in our inventory.
Speakers included are small and perfect for an intimate backyard setting( stereo sound with 5 watts of power).
Dimensions: 9 feet high, 14 feet wide, 5.5 feet deep.
The picture projected on screen is not very visible during daylight hours. It must be dark.